You've chosen a community. You've even moved your loved one into that community. You've done all the hard things and you know your loved one is happy in his or her new home. So, why do you feel uneasy when you visit your loved one in their assisted living community? Seeing a loved one in a new environment and being unsure of new protocols, new surroundings, and a new lifestyle can make anyone uncomfortable.
Here's what you need to know to make the most of each visit.
10 Tips for Visiting a Loved One in Assisted Living
1. Remember why you're there
You are there to show your support, to show your loved one that you still see him or her, despite any changes in mobility, ability, or cognition. You have made this decision together as a family and you want to continue showing your support even as living environments change.
2. Begin every visit with a warm greeting
No matter what else is going on at home, stay focused on your visit with your loved one, and be warm in your greeting. If your loved one is seated, sit down and talk at eye level. Greet him or her with a positive message and a smile. Focus on the positive of their recent move. Imagine if you were in your loved one's place and choose your actions accordingly.
Experience Leisure Care Senior Living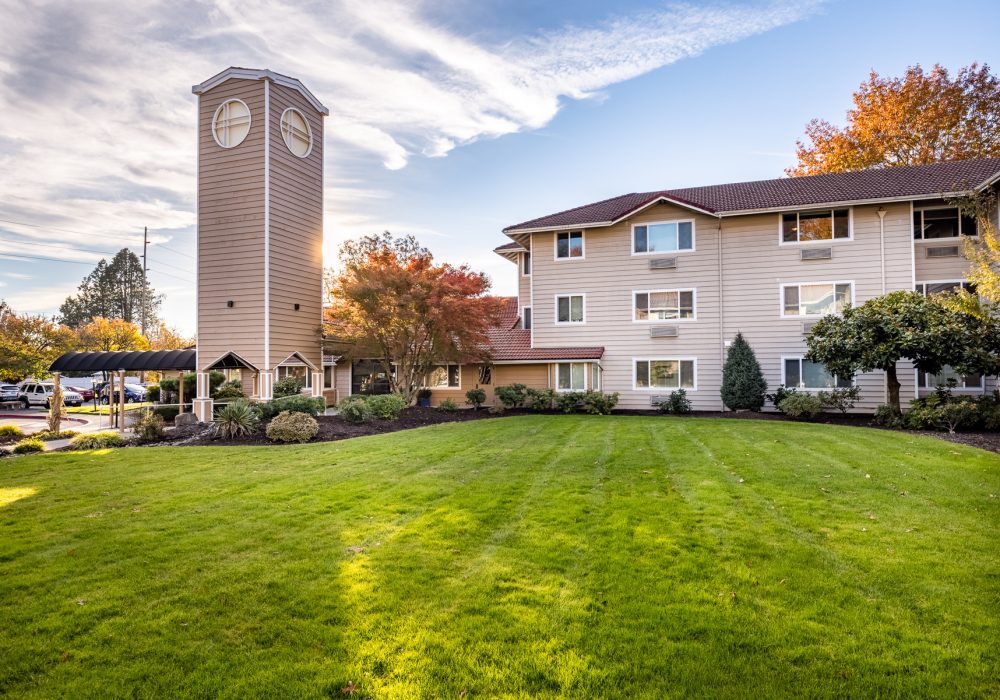 Assisted and Independent Living in Vancouver, Washington
Assisted and Independent Living in Oro Valley, Arizona
Assisted and Independent Living and Memory Care in Sewell, New Jersey
View More Communities
3. Bring items with you to facilitate conversation
Feel free to bring items with you that can stimulate a conversation and put you both at ease. Ideas include favorite music, family videos, old photographs, recipe cards, a tea set, or even lunch. If you have well-behaved children and/or pets, feel free to bring them along as well, provided the community is okay with small children and furry friends.
4. Keep a running list of conversation topics through the week
No doubt that you are constantly thinking of your loved one through the week. Start a list of topics to talk about with your loved one ranging from current events and sports news to family happenings. This can help alleviate any awkward silences that may occur.
5. Consider the length of your visit
When in doubt, short and sweet is better than long and empty. It's better to have a shorter visit with quality time and conversation than to overstay your welcome and make everyone feel awkward. Have your quality time and be conscious of the fact that your loved one is adjusting to a new home and maybe even new medications that may make them more tired than normal. Watch for signs of fatigue and don't be disappointed if the first few visits are shorter than you anticipated.
6. Change the scenery
Take a walk through the community garden, go shopping, or out to lunch. Visiting some of your favorite places together can help restore a sense of normalcy to a new situation. Additionally, changing the scenery from your loved one's community can relieve some stress and help you two reconnect without having to cope with a new environment.
7. Consider the timing of your visit
Ask your loved one and their caregivers when you should visit. If your loved one is new to the community, you may not want to interfere with meal time or activity times where meaningful connections are being made between residents. It will be important for your loved one to establish a new routine so try to be mindful of when you are planning your visits.
8. Don't be intimidated
There's nothing to be afraid of! Your loved one is the same as ever, and chances are, he or she may feel a little awkward about the move too. If appropriate, acknowledge the discomfort and move on with your conversation.
9. Be considerate and respectful
It may go without saying, but this is the time to show your loved one compassion and respect. Do not make rude comments. Do not make jokes that may be misinterpreted as cruel. Be kind and considerate, showing your loved one the same respect you would like to be shown.
10. Keep showing up!
The first couple of visits may be awkward, and that's okay! Keep showing up. Keep being a trustworthy and reliable presence and the visits will begin to transform from awkward to quality time together.
What tips do you have for visiting a loved one in assisted living? Share your personal experiences with us in the comments below! We'd love to hear from you!
Live Big.
Live Bold.
Retirement should feel like you're on a permanent vacation which is exactly why our communities celebrate freedom from obligation, helping you pursue new interests.