Making the move from home to assisted living can be daunting. However, when done well, assisted living can actually improve mobility, fitness, and independence – even enhancing the quality of life for residents in a safe and effective way.
Learn more about how assisted living can bring greater independence like it did for Faye, a Fairwinds – Sand Creek resident.
Moving From Crisis to Comfort at Fairwinds – Sand Creek
In 2016, Fairwinds – Sand Creek resident Faye was living with her daughter and experiencing major back pain, only able to walk about 300 steps a day. A health crisis made it both imperative and urgent that Faye make the move from her daughter's home into a retirement community in Idaho Falls. Fairwinds – Sand Creek came highly recommended from friends in the home health industry, so Faye made the move.
Her daughter recalls feeling, "important, welcomed, valued, and supported" during the initial tour and visit. She said,
"The whole process, from first meet through selection, paperwork, moving in, settling in, and now making it her real home was handled not only professionally, but compassionately."
Physical Therapy Brings Renewed Independence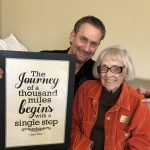 When Faye first visited Fairwinds, she needed a wheelchair on her tour because she could not walk the distance of the community. Eager to regain health and independence, Faye began a fitness program with Mark Osadchey – the physical therapist at Fairwinds – Sand Creek. Faye's daughter credits him with helping her mother overcome her health crisis to live independently again.
A year and a half after moving into Fairwinds – Sand Creek, Faye is still committed to her program and now walks every hallway in the community twice a day. She walks 30 minutes per day and participated in the community's Fitness Frenzy. She had to correct the numbers for the contest when she realized she has been counted for 30 minutes, 5 days a week. She corrected her count, saying, "No – 7 days a week! I don't take days off!"
We are proud of Faye's accomplishment and we look forward to watching her make even more progress on this journey!
How has assisted living helped your loved one regain independence? Share your stories with us in the comments below. We'd love to hear from you!
Live Big.
Live Bold.
Retirement should feel like you're on a permanent vacation which is exactly why our communities celebrate freedom from obligation, helping you pursue new interests.