On Monday, June 18 octogenarians gathered at the Colorado Springs Country Club for the 7th Annual Octogenarian Golf Tournament. The 9-hole tournament is free for all players and players must be 80 years old or older to participate.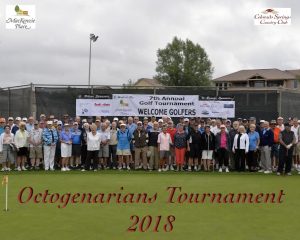 This year was the biggest tournament yet, pulling in 80 players, 15 of which were women. Al Williams, octogenarian golfer noted, "Our youngest golfer this year is 80, our oldest one is 93." Because of the large turnout, there were three awards given out on Monday, one for the women and two more for the men. The best score for women golfers was 44 and the best score for men was 39.
As the presenting sponsor, MacKenzie Place – Colorado Springs hosted a reception before the tournament. Nearly 70 players attended and had a great time getting to know each other before the big tournament.
MacKenzie Place – Colorado Springs is an upscale senior living community offering a continuum of care services including independent living, assisted living, and memory care.
Live Big.
Live Bold.
Retirement should feel like you're on a permanent vacation which is exactly why our communities celebrate freedom from obligation, helping you pursue new interests.