If you are caring for someone with Alzheimer's or a related form of dementia, we know it can be incredibly stressful. We want you to know that you are not alone. The Ackerly at Sherwood partners with families who are on this journey, providing a unique approach to memory care that is compassionate and empowering for both caregivers and for those living with cognitive impairment.
Learn more about memory care and how The Ackerly at Sherwood expertly balances care, compassion, and purpose to create a memory care experience that is truly a community.
What is Memory Care?
Nearly 15.7 million adult family caregivers in the United States are caring for someone who has Alzheimer's disease or a related form of dementia. Memory care communities, like the one at The Ackerly, are specifically designed to meet the unique needs of people living with memory loss – even as the disease progresses.
Going beyond forgetfulness, dementia can have a wide range of symptoms that require professional care, including agitation, extreme personality changes, confusion, and disorientation. Caregivers in senior living are well-trained to meet these needs and do what they can to mitigate symptoms of dementia.
Experience Leisure Care Senior Living
Assisted and Independent Living and Memory Care in Bethlehem, Pennsylvania
in Livermore, California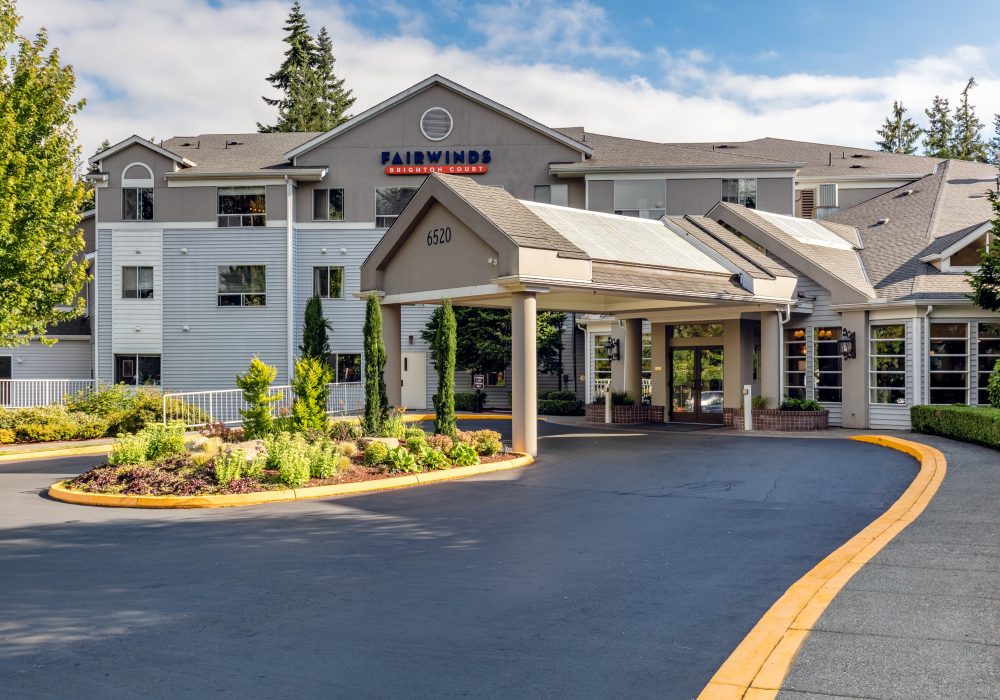 Assisted and Independent Living in Lynnwood, Washington
View More Communities
Memory care communities are designed with people who have memory loss in mind. They feature dementia-friendly menus, programming, activities, and more that cater to people living with the disease, giving them a sense of purpose and belonging in what can be a very confusing and disorienting time.
Knowing it's Time for Memory Care
Because dementia is a progressive disease, it worsens over time and full-time care is often required. In the beginning stages of the disease, your loved one may still be independent but eventually, he or she will require full-time care.
How do you know when you can no longer provide the care your loved one needs? These questions may signal that it's time to move to memory care:
Do you worry about the physical safety of your loved one while they are alone?

Are you concerned about your own safety as a caregiver?

Would receiving assistance in caregiving help your personal health?

Would a move to memory care help your family member manage their personal finances better?

Do you worry your loved one will wander?

Would it be helpful to have someone else manage household chores and maintenance?

Could your loved one use assistance managing his or her personal care?

Could your loved one benefit from living in a more social environment?

Have you noticed unexplainable physical changes?

Do you think having another person assume caregiving responsibilities could improve your relationship with your loved one?
Opal by Leisure Care: An Innovative Approach to Memory Care
Once you have decided it is time to move to memory care, consider different approaches to memory care. At the Ackerly at Sherwood, we use Opal, Leisure Care's signature memory care program. A person-centered and holistic approach to care, Opal is tailored to meet the needs of each resident.
Our memory care experience is unique, combining our residents' life stories and our seven pillars of wellness to ensure that your loved one is comfortable, cared for, and celebrated in their own individualized way.
Opal's 7 Pillars of Wellness:
1. Physical
Our signature PrimeFit program focuses on the unique physical abilities of each resident in both group and private sessions. We take into consideration the preferences and life stories of our residents to create active moments throughout the day.
2. Social
From scenic drives and themed dinners to holiday events and excursions, we ensure our residents feel included in society and maintain important social connections.
3. Experiential
By providing a range of activities like visiting a state park, attending a concert, or taking an impromptu fishing trip, our residents have the opportunity to experience the very things that have had importance to them their entire lives while also cultivating new experiences and interests.
4. Emotional & Spiritual
Because spirituality means different things to different people, we draw from the life story of our residents to provide daily opportunities to practice meaningful spirituality in ways that are important to each resident.
5. Creative & Artistic
Activities that elicit expression and provide sensory stimulation, like drawing, clay sculpting, or flower arranging are just a few of the ways residents can express themselves creatively each and every day.
6. Therapeutic
Our goal is to offer daily opportunities for residents to complete tasks with a purpose. We find that tasks, like watering plants or helping the staff, become quite meaningful for residents.
7. Sensory
We know that individuals living with a diagnosis of dementia often experience and express themselves through the five senses. The Opal program provides daily opportunities for our residents to positively interact in our community through what they see, hear, touch, taste, and smell.
Alzheimer's and Dementia Care at The Ackerly at Sherwood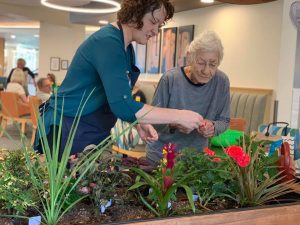 Utilizing Opal, Alzheimer's and dementia care at The Ackerly is a unique experience. More than just providing care, we strive to empower and embolden people living with the disease and their families.
At The Ackerly, our memory care residents are encouraged to participate in any activity we offer. Activities are available for all residents and we actively work to tailor activities and events to the abilities and interests of our residents. One program, in particular, is Eldergrow. Eldergrow is a gardening program specifically designed for seniors. As part of our signature memory care program, residents with cognitive impairment find gardening soothing and relaxing while also developing a sense of pride and accomplishment watching their garden grow.
We believe in bringing the larger Sherwood community into our doors, to interact and engage with our residents. Sherwood is posed to have the largest high school in the state and we are proud of our partnership with the students there. Members from the Sherwood High School Band performs in our lobby weekly. Residents love hearing their music and getting to know the students on a personal level.
We know how important and healing music can be, especially for those living with dementia. In addition to the high school band, we have live music in our bistro every Friday.
The staff at The Ackerly is expertly trained and is constantly seeking the latest innovations in memory care. Many of our employees are trained on a Virtual Dementia Tour, which gives them a unique sense of what it is like to actually live with dementia. Using headphones with noise distortion, goggles that block your view and affect depth perception, this tool increases compassion and understanding towards those residents living with dementia.
We are your partners in dementia care, coming alongside you in a difficult time to provide a strong sense of community and belonging. We would love for you to stop by and see how well memory care residents at The Ackerly at Sherwood are living. Call or stop by today for a tour!
Live Big.
Live Bold.
Retirement should feel like you're on a permanent vacation which is exactly why our communities celebrate freedom from obligation, helping you pursue new interests.