Fairwinds – Brighton Court senior living in Lynnwood, Washington offers a range of senior care services including independent living and assisted living services. Many residents at Fairwinds – Brighton Court live independently, choosing to move to senior living for a strong sense of community and belonging. Learn more about independent living and how our residents have the opportunity to continue lifelong learning.
Independent Living at Fairwinds – Brighton Court
Moving to senior living is a big decision and it is one that many seniors are hesitant to make. However, when moving to independent living at Fairwinds – Brighton Court, residents find a whole new way of life, living and retiring better than ever.
With a strong sense of community, our residents thrive. They find new interests and expand their horizons while also cultivating a deeper understanding of lifelong hobbies. From day trips to book clubs, there is something for every resident at Fairwinds – Brighton Court.
Inspired Learning at Fairwinds – Brighton Court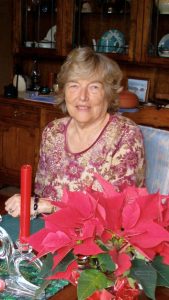 Part of the appeal of being in a senior living community is the opportunity to become a lifelong learner. At Fairwinds – Brighton Court, residents have access to a wide selection of courses from the Creative Retirement Institute (CRI) at Edmonds Community College. One course even meets at our community.
Resident Vera Cannon has taken four classes through this program. A resident at Fairwinds – Brighton Court since 2018, Vera loves being near the ocean, sailing, and being in nature. A teacher herself and married to a professor at Stanford University, Vera's love of learning is obvious to all who know her. From quilting to book club and poetry, Vera knows that it's never too late to start something new.
Several of the classes she took through CRI were poetry classes featured the writings of poets like Mary Oliver and Rumi. The classes inspired her to write her own poem about living in Fairwinds.
FAIRWINDS by Vera Cannon

Nestled within the tall trees of the Pacific Northwest

stands a retirement home where I've chosen to spend my last chapter

unlike no other residence where I have lived, even though

it is welcoming, beautiful and thoughtfully planned out.

It has more of the feel of an airport or train station, where we say

Hello or Goodbye as we hold our one-way tickets

without knowing either our time of departure or destination,

waiting for the next shoe to drop.

Change is rampant; new faces the norm, others that we never see again.

It is common to strike up a conversation with a newcomer at the Bistro.

We tend to talk more about where we've been

rather than where we will go next.

Ambulances opening their back doors

to the entrance are frequent visitors.

In emergencies, good judgment prevails and all hands

at all levels pitch in to help, making us all feel very safe.

Good fortune has caused a knock on the door at 5:00 inviting me to dinner

with my neighbors, to hash out the day's news and share stories from our pasts.

In the restaurant, we are served by high schoolers, some with tattoos,

piercings and wild hairdos to help us keep in touch with the real world.

Some of our elders, stooped by Parkinson's Disease

inspire us with their amazing spirits, courage and grit.

A covey of Catholics stream back through the lobby door allowing

other worshippers to access the van for their Sunday destinations.

The common living room reinvents itself multiple times a day to offer

exercise classes, meetings, dancing, games or live music.

We board the van to go out for errands, shopping, appointments

or lunch out to explore new venues and friendships

The friendly community understands how daunting it can be to adjust to a new place.

AND handymen and techie wizards are on call and accessible!

Walking around the facility leads me to one of my favorite sites; where

an awe-struck girl, captured in bronze, peers on her tiptoes, into a birdbath.

My small but ample apartment is dressed in my favorite colors, holding so many treasured relics of earlier times and places, making me feel so at home.

Paintings of ferries and manger scenes by the GREATS

adorn my refrigerator door, legitimizing my kitchen.

The gazebo that I see through my living room window

beckons residents and staff alike, to rest and reflect.

Within walking distance, I take extension classes to expand my mind and meet new friends and thanks to Zoom maintain a poetry circle with members countrywide.

On the weekend, I walk to a nearby Starbuck's to indulge in a favorite drink

then take up my pen to write about all that is happening.

Best of all, my daughter only 10 minutes away, makes delightful visits doable

while still maintaining an important independence for each of us.

Blessings abound everyday bringing me beauty, connection and encouragement

and beside me every step of the way, a Divine presence, that sustains me.

ALL IS WELL!
Thank you to Vera for such a beautiful poem that captures our wonderful community! Contact Fairwinds – Brighton Court to learn more about our independent living and assisted living services where seniors live better than ever!
Live Big.
Live Bold.
Retirement should feel like you're on a permanent vacation which is exactly why our communities celebrate freedom from obligation, helping you pursue new interests.