Residents at The Landing of Long Cove recently had a private concert from 'The Voice' contestant Tyshawn Colquitt. Learn more about the performance and how live music is an important part of life at The Landing of Long Cove.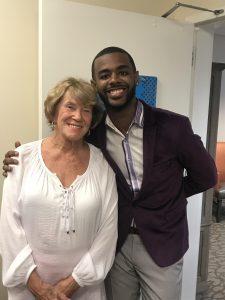 A Cincinnati local, Tyshawn Colquitt, found national fame on NBC's talent show, 'The Voice.' Contestants on the show are chosen for their singing talent by one of four judges and then compete weekly against other singers and teams until one final winner remains. Tyshawn is on the current season of the show, Season 15, and claims influences from Michael Jackson, Erika Badu, John Legend, Beyonce, Bruno Mars, and Luther Vandrose, combining these legendary singers into his own voice.
The Landing of Long Cove hosted Tyshawn, who is also a local baker, for a private concert for residents and family members and brought along his famous pound cakes, often delivered with a song.
"We had a wonderful evening of entertainment with Tyshawn. The resident's and family loved hearing him sing. We are looking forward to watching and supporting him on 'The Voice'. – Darla Bittner, Sales Advisor at The Landing of Long Cove
Follow Tyshawn's journey on 'The Voice' by tuning into NBC on Tuesday nights at 7:00 pm CST!
We are proud of our engaging and dynamic activities calendar that includes live music, local outings, and cultural and educational opportunities. We'd love for you to join us for our next event!
Live Big.
Live Bold.
Retirement should feel like you're on a permanent vacation which is exactly why our communities celebrate freedom from obligation, helping you pursue new interests.